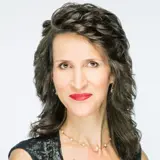 Ioana Galu, a native of Romania, has enjoyed a national and international career in both Europe and the United States. Former Assistant Professor of Violin and chamber music at Gheorghe Dima Music Academy in Cluj, Romania, Galu has also been on the faculty at Heidelberg University, Bowling Green State University, and The College of Wooster. In August 2016, Galu joined the University of South Dakota as an Assistant Professor of Violin and member in the Rawlins Piano Trio. She has been on the faculty of the Eastern Music Festival (Greenboro, NC) since 2004.
A graduate of Gheorghe Dima Music Academy, Galu earned a second master's degree in violin performance from Bowling Green State University, an Artist Diploma from University of Cincinnati's College Conservatory of Music and a doctorate in Contemporary Music from Bowling Green State University.
Galu has been awarded prizes in several national and international competitions, including Second Prize in the Mozart International Competition for Piano Trios (Romania), and First Prize and Special Prize of the SOROS Foundation at the George Enescu Violin National Competition (Romania).
In 2014 Galu performed the world premiere of Marilyn Shrude's violin concerto Libro D'Ore with the Central Ohio Symphony and the European premiere with the Sibiu State Philharmonic in Romania. She gave the US premiere in October 2014, and subsequently recorded the concerto for Albany Records. In January 2015, Galu recorded "Music Under Political Unrest" – Works for Two Violins by Grażyna Bacewicz, Henryk Górecki, and Michał Spisak with Iuliana Cotirlea, violin, to be released in the near future.
During the season of 2019-2020, Galu will give the European premiere of Samuel Adler's Violin Concerto in Romania.