OBOE, PRINCIPAL
Jeffrey Paul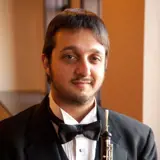 Jeff Paul, principal oboist with the South Dakota Symphony Orchestra, grew up in Southern California where he gained experience and expertise in various forms of performing arts. He was an aspiring concert pianist by the age of ten, and was awarded opportunities to perform piano concerti with the Conejo Youth Symphony and the Pepperdine University Orchestra. Paul attended the Eastman School of Music (BM with performer's certificate, 1999) and the University of Southern California (MM, 2003) for oboe performance. His primary teachers include Richard Killmer, David Weiss, and Allan Vogel. He has performed as a soloist with the New West Symphony, Heidelberg Castle Festival Orchestra, Conejo Concerto Orchestra and the South Dakota Symphony, and has substituted with the Los Angeles Philharmonic, Los Angeles Chamber Orchestra, and San Diego Symphony.
One of Paul's primary interests has been traditional folk music of various cultures. He enjoys working closely with The New Pine Ridge Singers, and improvisng alongside Lebanese oud player Simon Shaheen.
In composition, Paul has received awards from the Young Composer's Guild of the Music Teachers Association of California, resulting in several premiers of his chamber and orchestral music. He has also received commissions from various organizations, including the South Dakota Symphony and the Young Artists Ensemble theater group in California, and composes regularly for the Dakota Wind Quintet.
Paul has recorded for various projects, including a Warner Bros. film scoring session, a hip-hop orchestra, aspiring jazz/rock/fusion bands, and a spattering of independent short films.